Information
Welcome to Experiments in Beautiful Thinking with Rita G. Patel
---
​This online course launches September 1, 2021 (in its entirety) and once purchased, never expires.
In this online video-based course you will be guided through six practices to answer the question: How can our experience of beauty transform the way we see ourselves, our situations, and our environments?
Part 1: Expand our lexicon of beauty
Immerse yourself in words that carry the meaning of beauty for you and begin to make patterns with words that represent beautiful things, experiences and emotions.
Part 2: Building Relationships
Begin to look at your chosen words as symbols by deepening your relationship with them. You will explore the actual shape and feel of each symbol and create new relationships through metaphors.
Part 3: Image Making
Now, you begin to use your hands more - adding images to your word-symbols using collage, color and shapes.
Part 4: Becoming alive in beauty
You will choose an activity that you engage in a regular basis (ideally something you consider mundane) and approach it as an experience of beauty. We will work together with methods and practices to deepen your process for experiencing beauty.
Part 5: Transforming our map
We will expand on part 4 and build a "map" to look at your consistent daily activities as anchors. Your map will show you the shape of your days and how certain anchors can be spaces and places to experience beauty.
Part 6: Journey with your question
See what questions seem most relevant to you now. By imagining with beauty, even constraints themselves transform...you transform...and the world around you transforms. Our storybooks begin to include all parts - even the strange, uncomfortable, and foreign.
Your instructor for this course is Rita G. Patel, a Global Garden Practitioner for 2021.
---
Rita G. Patel Practitioner Statement
Beauty is the foundation of my work. Being in conversation with beauty in my process is how I live an artful life. Through my work I aspire for people to experience beauty and come into relationship with it in their own way. Imagine if beauty was at the forefront of our lives. Being confronted with beauty disarms and breaks us out of patterns bringing us into the present reality. How would our relationships, our conversations, and our choices be different? I believe that navigating our world in beauty leads to a just, wonder-filled and joyful world. One that we want to live for. One that is truly abundant and prosperous. One that is brimming with hope. I aim to create beautiful work that attracts people and opens them to imagine something new. I work in a variety of media to give shape to the beautiful.
---
This course is designed for interaction with Rita within the comments below each video. Please feel free to ask questions, post comments, and share photos.
Thank you for investing in wellness education!
Amity Katharine Libby, Publisher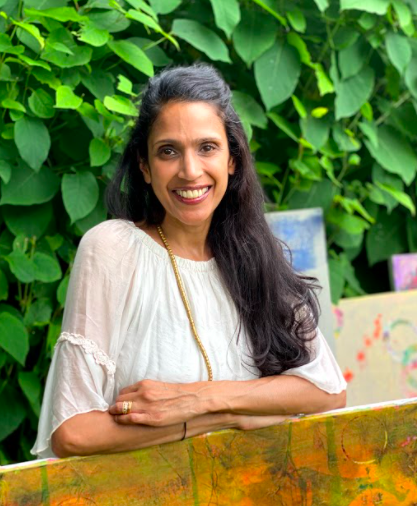 Rita G. Patel photographed at home in Michigan, 2021